This is actually from last year's Halloween, when Pockets wanted to make her Hufflepuff outfit. But since we are using them for our Comicon outfits this week, I felt it a good idea to post this as well!
The wands:
Materials:
Paintbrushes
Clay
More paintbrushes
Paint
First, decide on a paintbrush to fit your needs. Pockets used a medium sized one, but since my wand is "slightly springy" I used a smaller, more dainty paintbrush.
Start by covering the bristle in clay; this will be the wand's handle.
(this is the clay we used)
Next, use the clay as you desire to shape your wand. I wanted mine (made of hawthorne) to be woody and knotty. Pockets went with a smooth, but decorative style.
Next bake it. The directions we used said 10 minutes for every 1/4 inch thickness. Ours were about 1/2 an inch, so we cooked them for 20 minutes.
Then we painted them. We had three shades of brown, and a white to mix them with. Pockets did hers lighter than mine. I decided to paint my handle a darker color too.
Pockets added a darker wood grain onto her wand, and then painted the swirl that went up from the handle.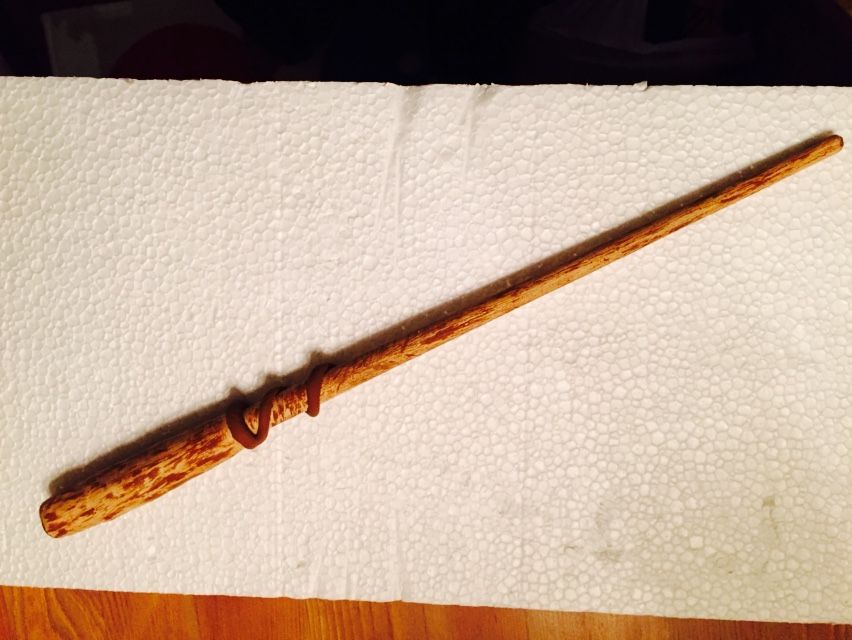 Since her's looked so awesome, I added wood grain onto mine as well.
The robes:
For the robes, we used
Simplicity pattern 5840
. For fabric, Pockets chose a beautiful black poplin. It was so easy to work with, and super heavy, for that robe-like look and feel. She used a light yellow poplin for a faux lining.
The first attempt, just doing as the pattern said, turned out HUGE.
It fit her boyfriend better.
So he got those robes (he's a Gryffindor), and Pockets made a new set for herself, shrinking the pattern an inch in every dimension.
She paired it with a gray skirt, white button up blouse, gray cardigan, a Hufflepuff tie, and a House badge. It turned out SO CUTE!!
(A Hufflepuff wearing an Aes Sedai ring???)
And for the whole effect (but through a mirror):
Now we're all set for Comicon!
~Buttons