Or, how to make a long sleeved shirt into a sleeveless shirt.
Or, how to make a shirt smaller.
I had many reasons for altering this shirt, as the various titles of the thread suggest. For the Phoenix Comicon this week, Pockets and I are dressing up in various costumes. Pockets already had a Hufflepuff outfit from Halloween last year, so I had to come up with making a Ravenclaw one for myself.
First I ordered a Ravenclaw iron on patch from Amazon. I was very happy to find one in bronze and blue (which is the book canon) rather than the silver and blue (which is the movie canon). I wanted to be book canon.


With that in mind, I had to find a tie. Any online are from the movie, so that wouldn't work. I had to look the old fashioned way and buy one at a department store. I searched online and found one that looked good at JC Penneys. I went to the store--with my patch--and it looked pretty good together. I got it on clearance, $15!
Now I just needed a white button up shirt and a gray cardigan. Urged by my husband to save some money, I went to Goodwill to see what they had. First off, I was impressed that everything was grouped by color; that made looking so much easier! I found a white shirt for $5, but it was an XL--way too big. I got it anyway. And I found dark gray (almost charcoal) cardigan for $10. Lucky!
So, for the shirt, it's ginormous!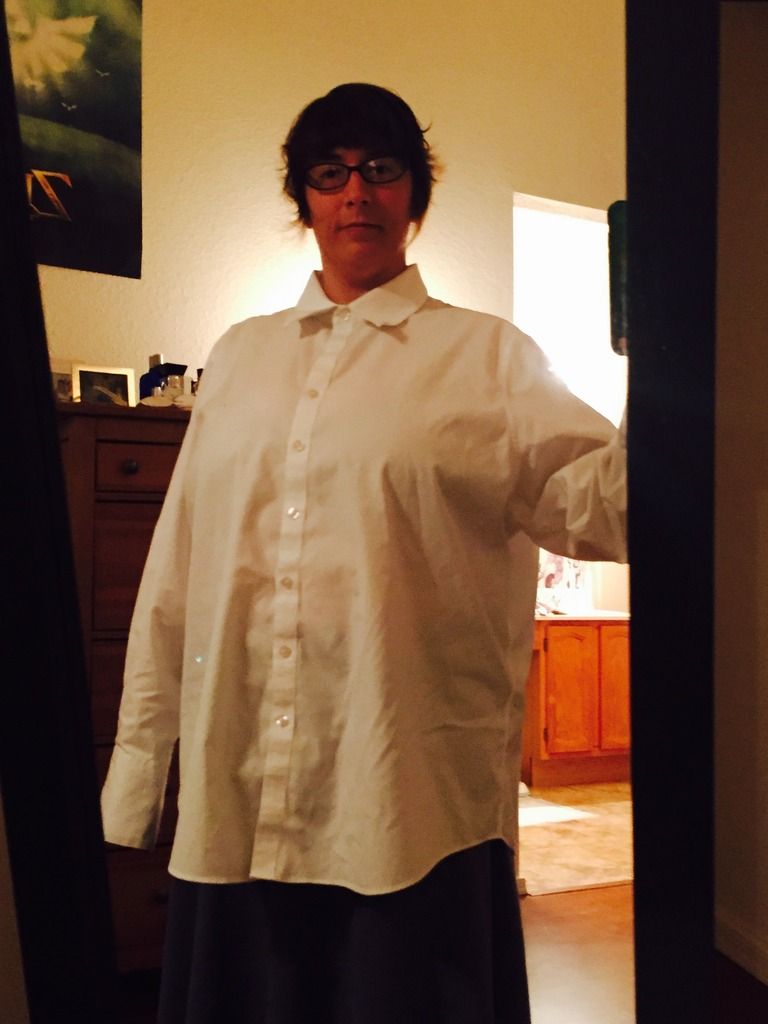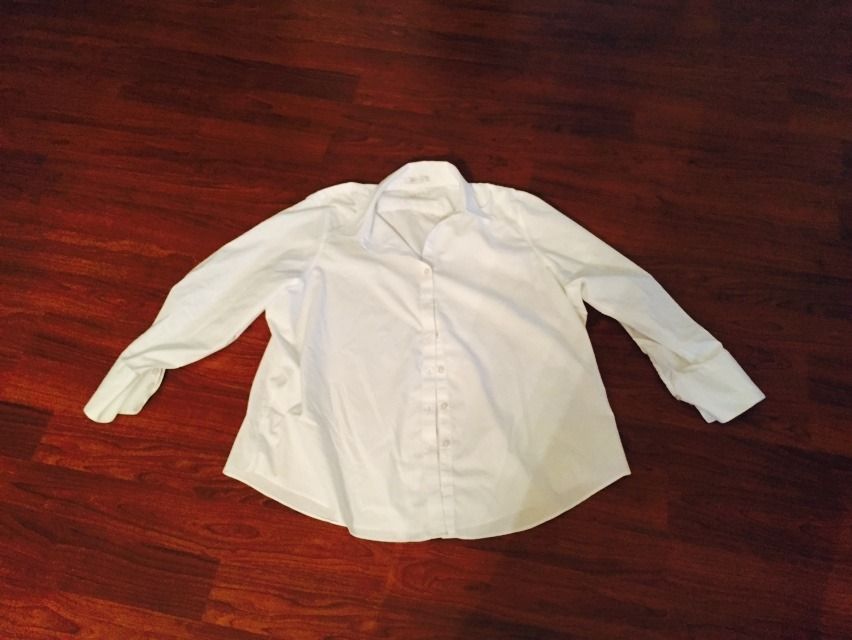 And it's really hot here, so I figured it might be best to cut down on the materials I'd be wearing. So I decided to make it sleeveless.
I cut off the sleeves, right below the seam. This shirt is a very fancy material and it cut beautifully and has no need for heming the cut.
Next, I put it on inside out and pinned how much I needed to take in the sides. It's about a inch and a half on either side.
There was still too much fabric in my chest area, so I decided to try a dart. I've never done darts before and it looked easy enough. I put the shirt on inside out again, and pinned how much fabric I wanted to take away.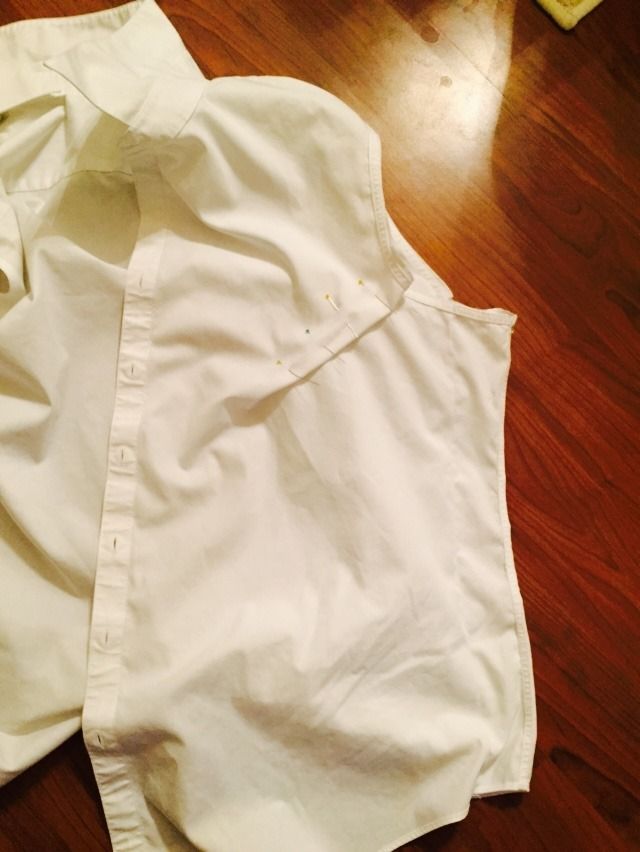 It turned out decent. Not the best ever, but definitely an improvement!
Now, for my cardigan, all I had to do was iron on my patch!
And here's the whole outfit!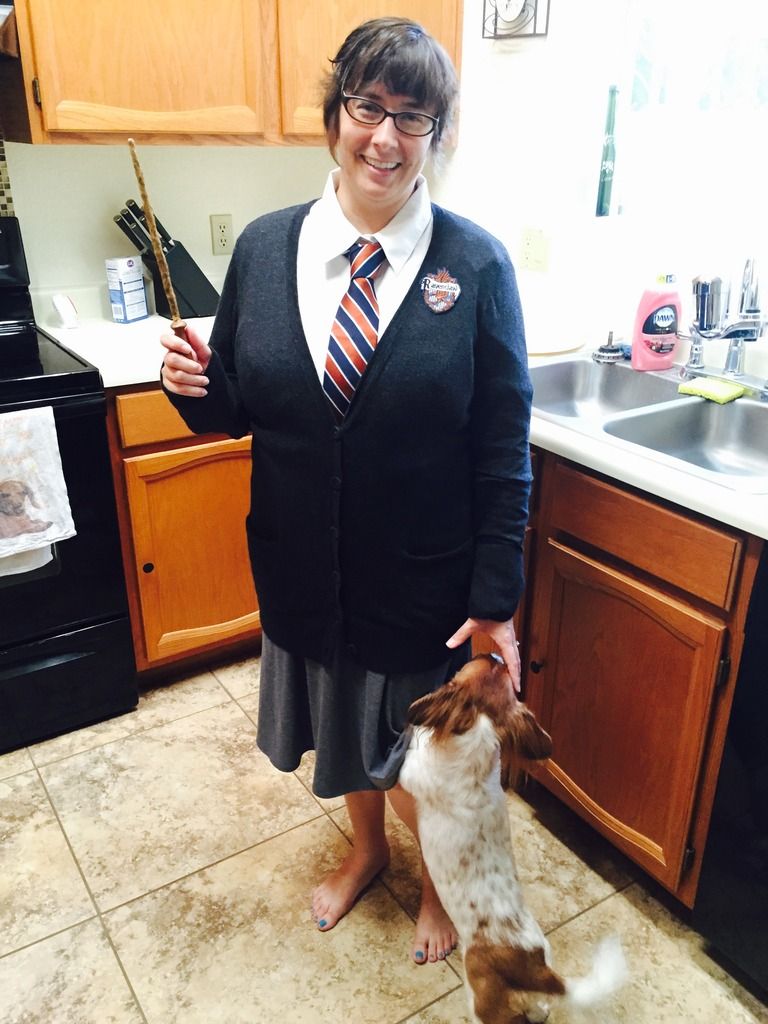 This will be our outfits for Friday. I'm so excited!


~Buttons