For celebrating a birthday at school tomorrow, I wanted to try something different. I searched through Pinterest and found a
Popcorn Cake
! It was super easy, and it tastes pretty good too! I guess the challenge will be if the kids like it tomorrow, or not.
Ingredients:
10.5 oz. package of marshmallows
16 cup popped popcorn (I used three 82.3g bags, and had about 2 cups left over)
1/4 cup butter (plus 2 tbsp for greasing the pan)
1 large bag Peanut M&M's (I have a kiddo with a peanut allergy, so I used mini Rolos instead)
1 bundt cake pan

First, grease your bundt cake pan.
For this, I melted 2 tbsp of butter into a small dish. Using a paper towel, I dipped it into the butter and gently rubbed it on the sides of the pan. Set the left over butter to the side--we'll use it later.
Next, pop the popcorn. I didn't have a mixing bowl big enough to mix all 16 cups at once, so I put 8 cups into the bowl.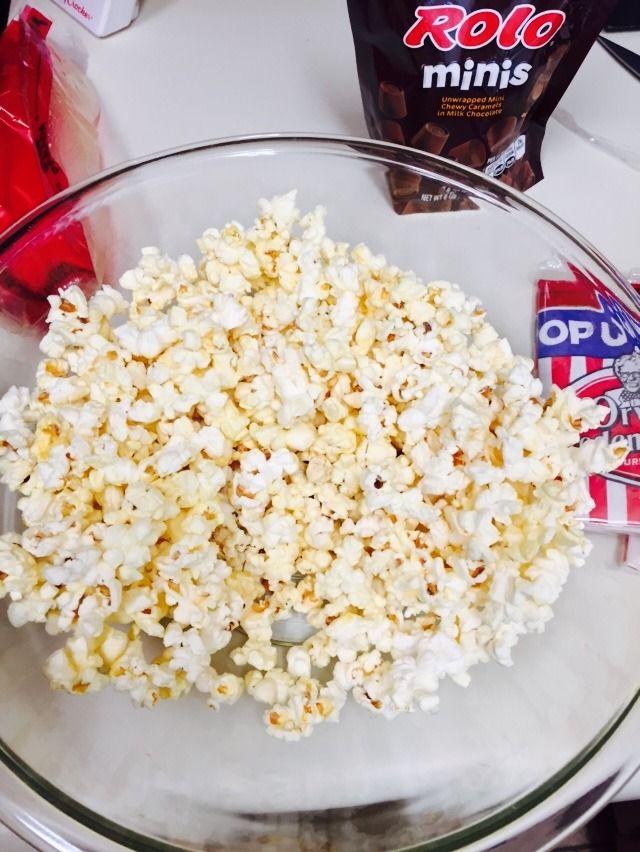 I melted 1/8 a cup of butter on the stove (over medium heat) and added half of the 10.5 oz bag of marshmallows.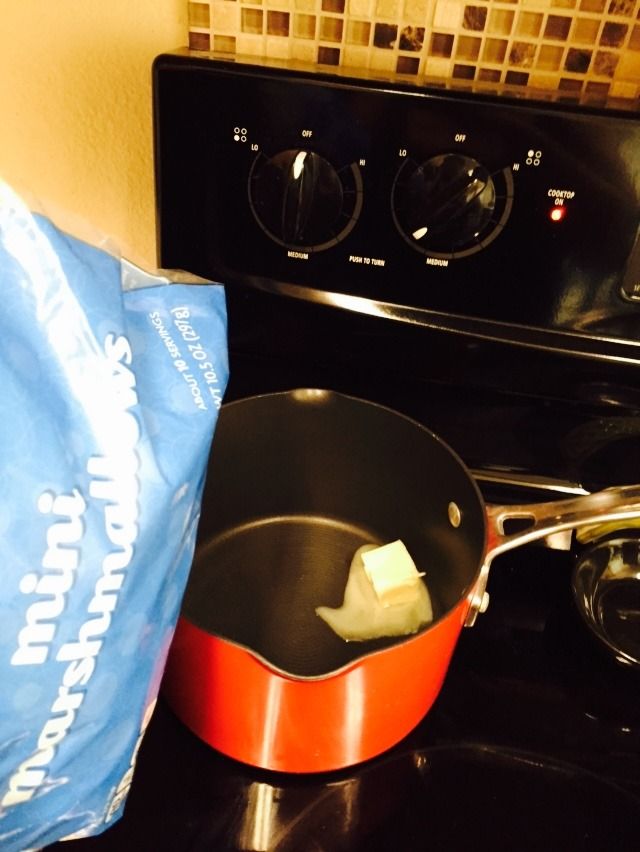 Heat until smooth.
Pour the marshmallow mixture over the popcorn.
Stir it all together.
Pour into the greased bundt pan. Using the extra melted butter, dip your fingers in to grease them. Use your fingers to press the popcorn into the pan.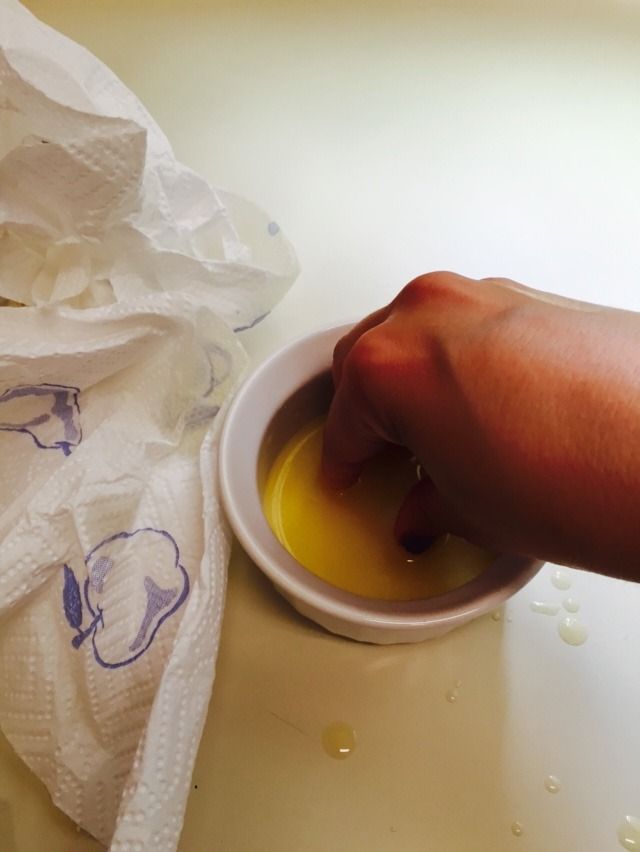 I decided to add the layer of Rolos here, giving us a chocolate/caramel middle.
Now, repeat the steps to mix the other 8 cups of popcorn. Once done, press into the bundt pan.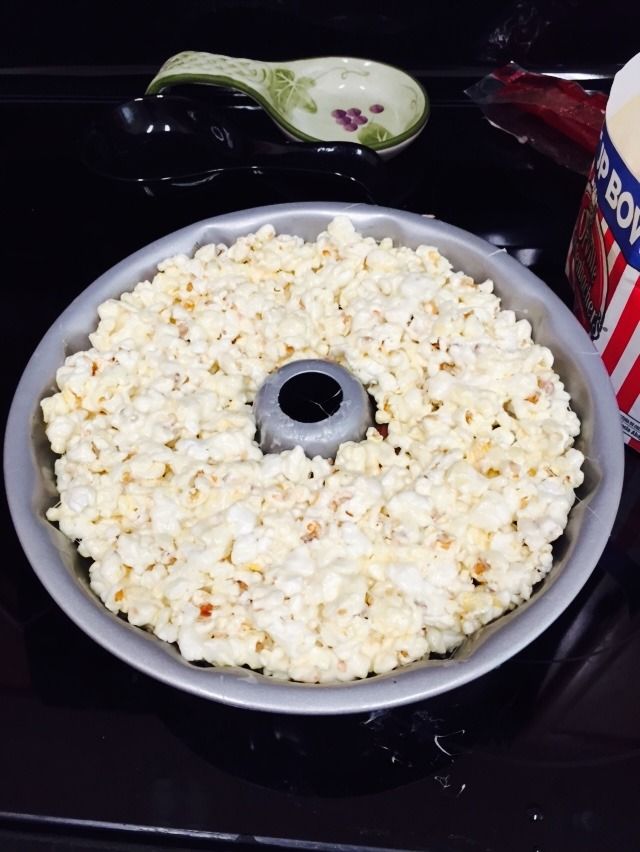 Let it sit for 10-15 minutes. Using a knife, gently (so you don't scratch your pan) scrape the sides. Invert the pan, and you've got your popcorn cake!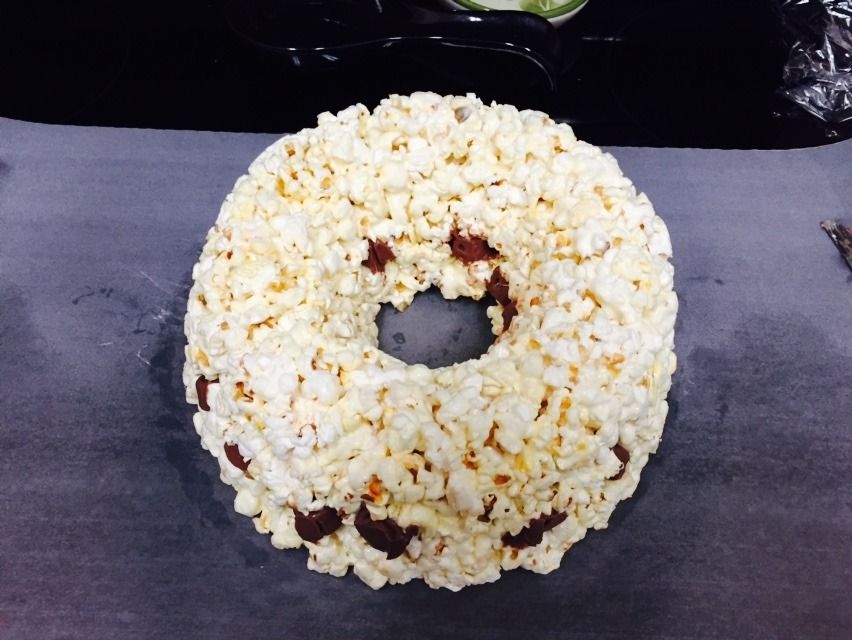 To make it more festive, I added on colorful sprinkles!
Enjoy!

~Buttons